Picture: The founding brothers Martin Schlotfeldt (on the right) and Matthias Schlotfeldt (on the left) with the manufacturer Suriwan Dangam (in the middle) when visiting Thailand.

OUR PHILOSOPHY
Are you looking for something exclusive that sets itself apart from the characterless mass-produced products? On thaipillow.co.uk you can find a selected range of furniture with fair pricing and an individual charm.
With our products we are putting a strong emphasis on quality. Aside from the typical furniture and decor for each country our assortment also comprises of modern designer pieces.
All our products are handmade by family businesses. Most of them come from Thailand and Indonesia. The direct purchase spares us the detour via whole sale traders. This ensures that the families receive fair prices for their products. Over the years, true friendships developed with our manufacturer families.

Sustainability
thaipillow.co.uk sees itself as a company, that highly values sustainability and the right conditions in the manufacturing process of our products. The resources used in our products come either from wood plantations or from recycled wood. All our Thai pillows are filled with 100% of precious kapok. We regularly visit our manufacturers to keep in touch with them. Where else can you find structures like this?

Service
The satisfaction of our customers is truly dear to our hearts. That is why we value friendliness and a great customer service. We always try to fulfil the wishes and desires of our customers to the best of our abilities. We'll be happy to consult you via email or in person concerning your furnishing ideas.

LIVASIA QUALITY WHICH ONLY CAN BE FOUND HERE:

100 % Kapok
Our Thai cushions are only filled with wild-growing, pure and untreated kapok

Cotton
For the cover, we only use durable cotton
Handmade
Our kapok products are sewn with double seam and lovingly stuffed by hand
Fair
Direct import without whole sale traders guarantees fair prices

Sustainable
Sustainable and responsible production within the OTOP project
Outdoor
Suitable for outdoor use – due to the solid filling, no cold from the ground can come through

OUR STORY
We are Martin and Matthias, the founding brothers from thaipillow.co.uk. We love Asia so much.
During our studies we fell in love with the friendly and smiley warmth of the Thai People.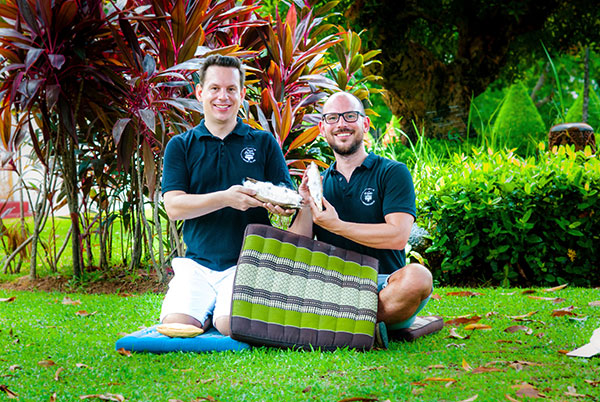 We discovered kapok when we were travelling through the subtropical rain forest in Thailand. After the first night in the jungle camp, we were very relaxed and rested. Of course, we slept on the colourful Thai kapok mats.
What is kapok?
Kapok is plant-based down of the kapok tree. There is a large number of kapok trees in Thailand. The large kapok pods are filled with very fluffy and soft plant fibres and can be harvested from huge kapok trees in the jungle!
The amazement was huge! Why didn't we know about these fantastic mats in Europe? So we decided, still travelling through the forest, on our mission: We just have to make this natural wonder well known in the western world!
Several years have passed since and we can be proud, to offer such a natural product in many western countries. The finest kapok from the rain forest with colourful covers made from organic cotton – That is why our customers are so happy.